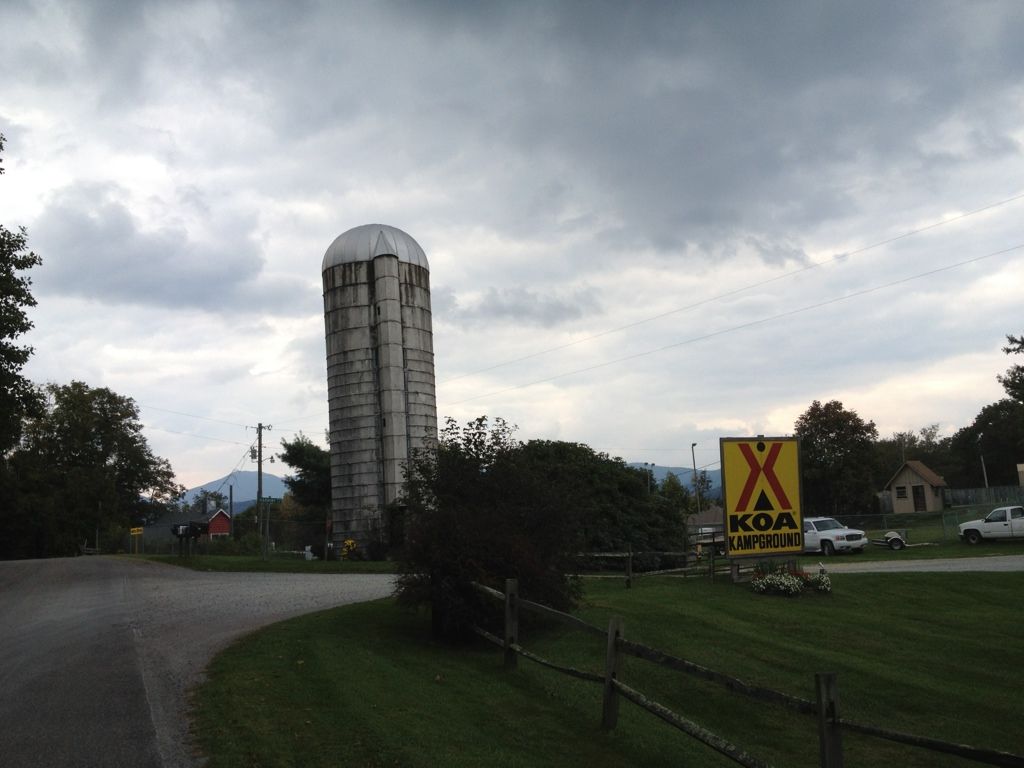 We decided to check out the KOA in Boone, NC this past weekend and have mixed feelings about it. First of all, a little about this campground. The Boone KOA is the highest elevated KOA east of the Mississipi. It sits at 4000 ft above sea level. It sits outside of Boone, NC amongst the rolling hills with great mountain views. If you are looking to get out and away from things, this is a great place for it. Upon arriving at the KOA, we were pleased with the over all appearance. As you entered the grounds, you passed by an old farm solo. I was greeted by Lindsay, who checked me in. She directed me to where our site would be. As we drove down the narrow gravel road, we came upon our site on the side of the hill. Getting our 35′ long travel trailer into this narrow site was daunting. The ground where the road met the site changed elevations and we had to be extra careful not to bottom out on our stabilizing jacks. After a few times of backing forwards and backwards, I was able to get it somewhat square on the site. We quickly learned that the site was not level side to side and had to deploy or Lynx Levelers. Using all 10 blocks of the levelers for the tandem axles (5 blocks per tire), we were able to get the camper level. But wait, it wasn't. It was unlevel from front to back. Using the electric tongue jack, I had to raise the front a good bit. Normally the last step on our fold-down stairs is not too far off the ground, but this time it was a good bit off the ground. So much that our medium sized dog found it difficult to get up. We realized after extending the slides on the backside, that we were right at the border line of the site behind us, which remained empty the whole time. Thankfully it did stay empty as it put our camper literally within a couple feet of the campfire ring in that site. If we had a slide on our front side, we wouldn't of been able to use our own fire ring as well. Speaking of the fire rings….nothing fancy, just some rocks. We would of like to have seen something a little more stable for the fire ring, but it worked out ok.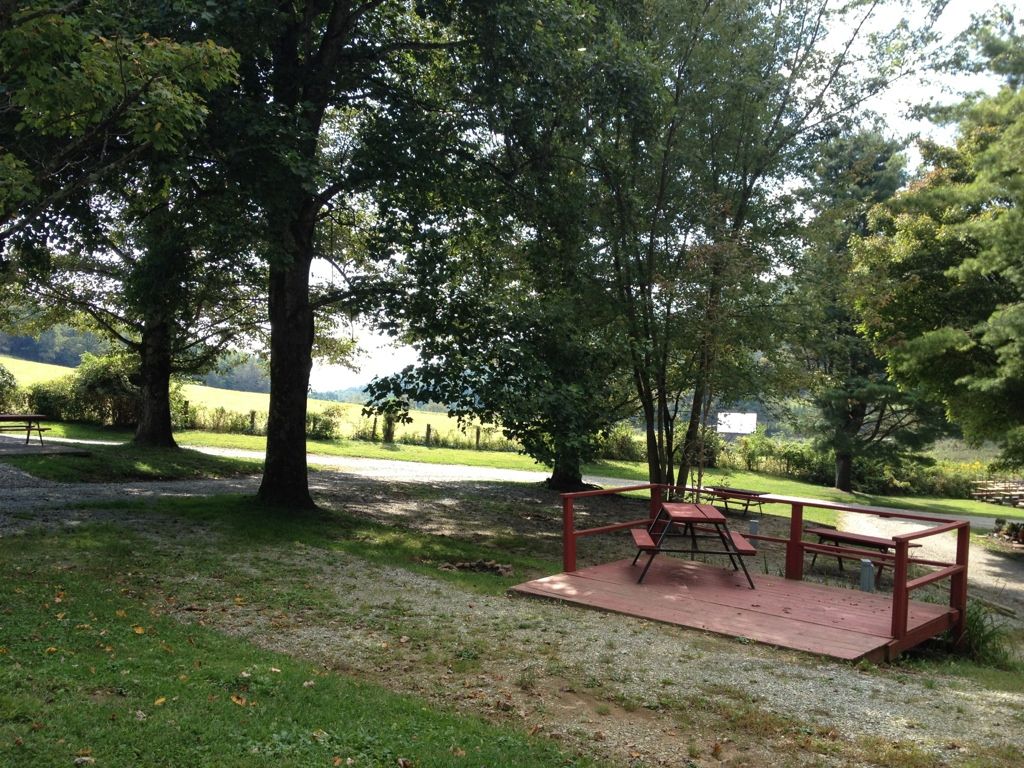 The view from the site was great. We were a few sites from the end that was next to a cow pasture. Across the cow pasture, you had views of some mountains in the distance. When I checked in, Lindsay gave me a piece of paper with the activities going happening the next day (a Saturday). My 11 yr old daughter was going to make sure we participated in as many activities as possible! So the first thing saturday morning at 9am, I was off to do a scavenger hunt with her. A few others joined in and my daughter was the first to finish. Way to go girl! At 11am, it was wifes turn. She got to go up and do crafts. They made some cool hand puppets out of brown paper bags. They were very creative. There were a couple other things my daughter wanted to do, but we had to finally say no and get out of the campground for a little bit and do some exploring.
When I made reservations for the weekend, I didn't realize that Appalchian State University, which is located in Boone, was having a football game. Traffic was the last thing I wanted to deal with. So we set out on 421 back towards Wilkesboro until we got to the Blue Ridge Parkway and then headed south. There was a campground on the parkway that I wanted to check out for some dry camping. Along the way, we came across the Moses H. Cone craft museum and home. It was an old beautiful home sitting on the mountainside. It was full of all types of crafts. From pottery to wicker and everything else in between. We finally made it down to the campground I wanted to check out, Julian Price. We got some information and did a quick drive through and may return one day. We headed further south on the parkway and went across the Linn Cove Viaduct. If you have not seen it before, this is a beautiful site. We visited the information center on the otherside and took a short hike under the viaduct and on the other side. It was really a cool place. We left the parkway and made our way back to the campground in time to throw some steaks on the grill. After dinner, our daughter reminded us it was 7pm and time to go to the apple cider social up at the office. So where do you think we went? Yep, we went there and had some great cider and threw some bean bags on the corn toss game. We ended the night with another campfire.
We found leaving the site as difficult if not more difficult than getting into it. The road was worse and rutted out some on the otherside and we were definitely going to drag the jacks. I had my wife get into the driver seat and slowly move the rig with my guidance. We finally made it out and barely cleared a tree by incehes.
All in all, we loved it there. Our site was anything left to be desired, but there were other better sites around. I would recommend that you leave your rig at the office and walk to the site they assigned you first. If you don't think you can do it, then ask for another site. I wish we had done this. Lesson learned. Next time, yes we will return.
Here's some other information you may find useful. The KOA does have a small playground, activity center with movies and games, goats and donkeys that you can pet and feed, and a miniature golf course. There is also a bean bag toss game and a ladder toss game right outside the front of the office. THere is no cable or wifi there, but we were able to pick up a few channels over the air and cell phone reception was decent.
The Boone KOA is located at 123 Harmony Mountain Lane, Boone, NC 28607. You can reach them directly by phone at (828) 264-7250 or call (800) 562-2806 for reservations. Emails may be sent directly to them at boonekoa@bellsouth.net.
[tb_google_map]